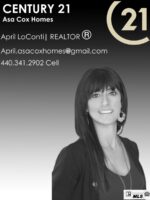 April Luca- LoConti has been working in customer service for majority of her life. Before Real
Estate she started a small business, Salon Bella Luca out of Mayfield Village and expanded
that to Mentor along side her sister. Looking more to growing her professional experience with
customers I joined local chamber of commerce and was quickly was brought on to join the
Board of Directors where she focused on giving back to her community! Not only is April Big on
her community and customer service she's also very big in education she decided to go back
and pursue a second career and found herself in Real Estate. April is known for her "family
feel" and driven positive mind set where she takes control and looks out for her client's best
interest.
Being big on education she dives into learning your needs and dedicates herself to achieving
your goals, whether that is helping you to invest your money or get you into your dream home
or sell your current home April makes it her priority to meet your needs. She has a great
husband Andrew LoConti owner of Savant Building Solutions and two kids that she spends the
rest of her time with!