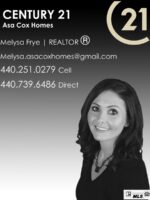 Sales Associate
Realtor, National Association of Realtors
Office: 440.639.0002
Cell: 440.251.0279
Fax: 440.639.4332
2709 N Ridge Rd
Painesville, OH 44077
Hi there! My name is Melysa Frye. I'm a Lake County girl, born & bred and an excited member of Asa Cox Century 21 Team! I take extreme pride in being a reliable and honest advocate for my buyers and sellers. My biggest professional goal is to always put my clients into homes that bring them joy; getting to do that sends a little bit of that joy my way!
On a more personal side: my husband and I enjoy family time with our camper both locally and in West Virginia where we can blaze through the Hatfield McCoy Trails. I enjoy the outdoors whether hiking, gardening, a backyard fire or walking the property line of a land lot. Oh, and one of my greatest pleasures in life is a good cheesy joke.
Why did the house go to the doctor? It had a window pane! ​